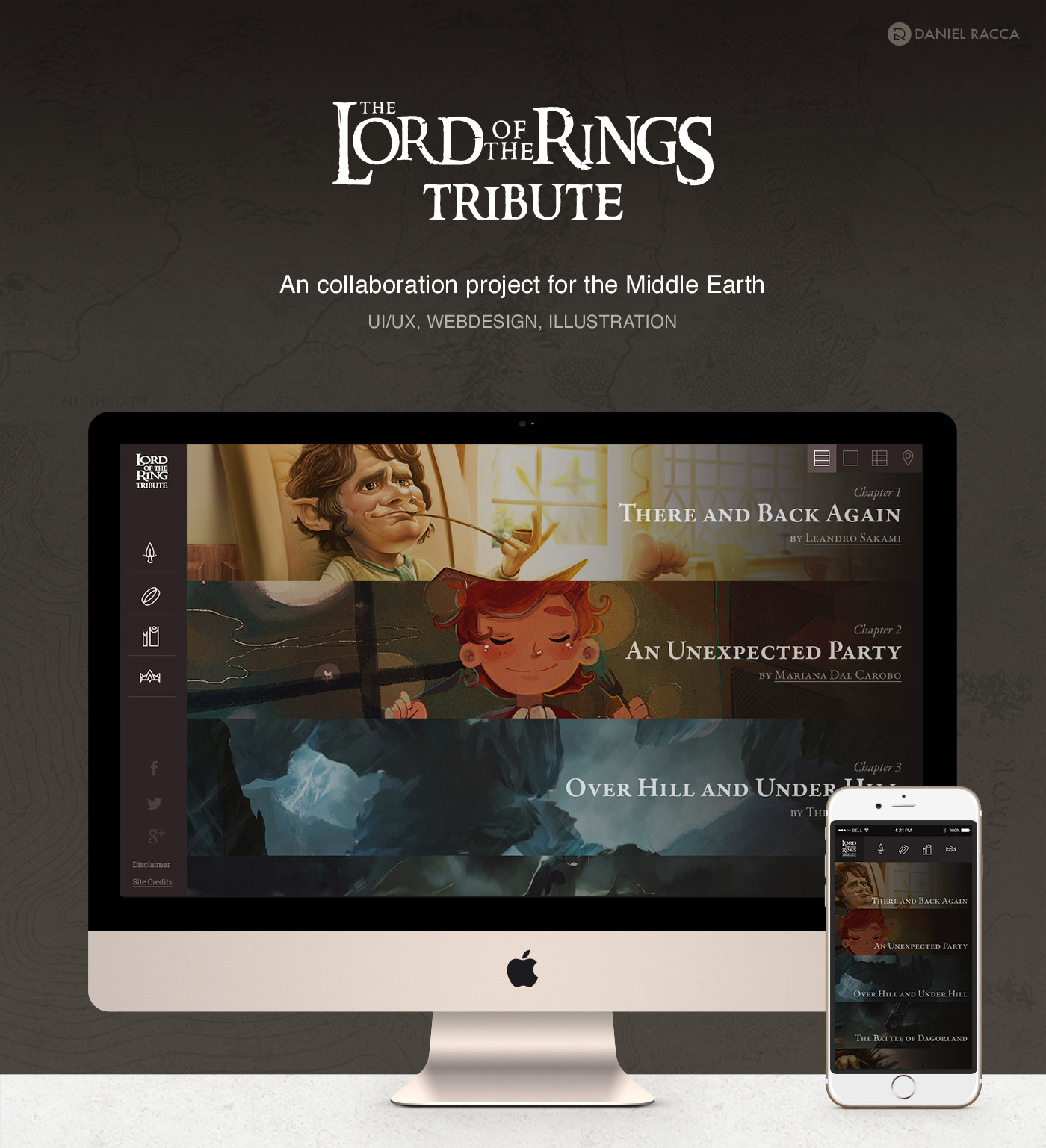 The "Lord of the Rings Tribute" is a collaborative project that brings together various Brazilians Illustrators passionate about the world of Tolkien. Started by Daniel Racca and Maicon MCN, The Collaboration brings together several illustrations to honor the work. Each Illustration works like a chapter of the Trilogy Books and even The Hobbit.
This case is about the Webdesign of the Site in which it was disclosed these illustrations. Completely directed for the visual impact of the illustrations, the site functions as a large gallery grouping the best moments of the Story. It has four interactive models of navigation: By chapter-list; Full-expanded; Mosaic and Middle-earth Map. In each navigation the user can have a rich experience and revive the love for Middle Earth. Being able to recall the most important moments in the story. The most striking phrases and where each point of the story happened.
Directed completely for the Fans of Lord Of the Rings. The website was launched in late 2014, along with The Hobbit: The Battle of Five Armies and was a success, pleasing a lot of Brazillians Fans.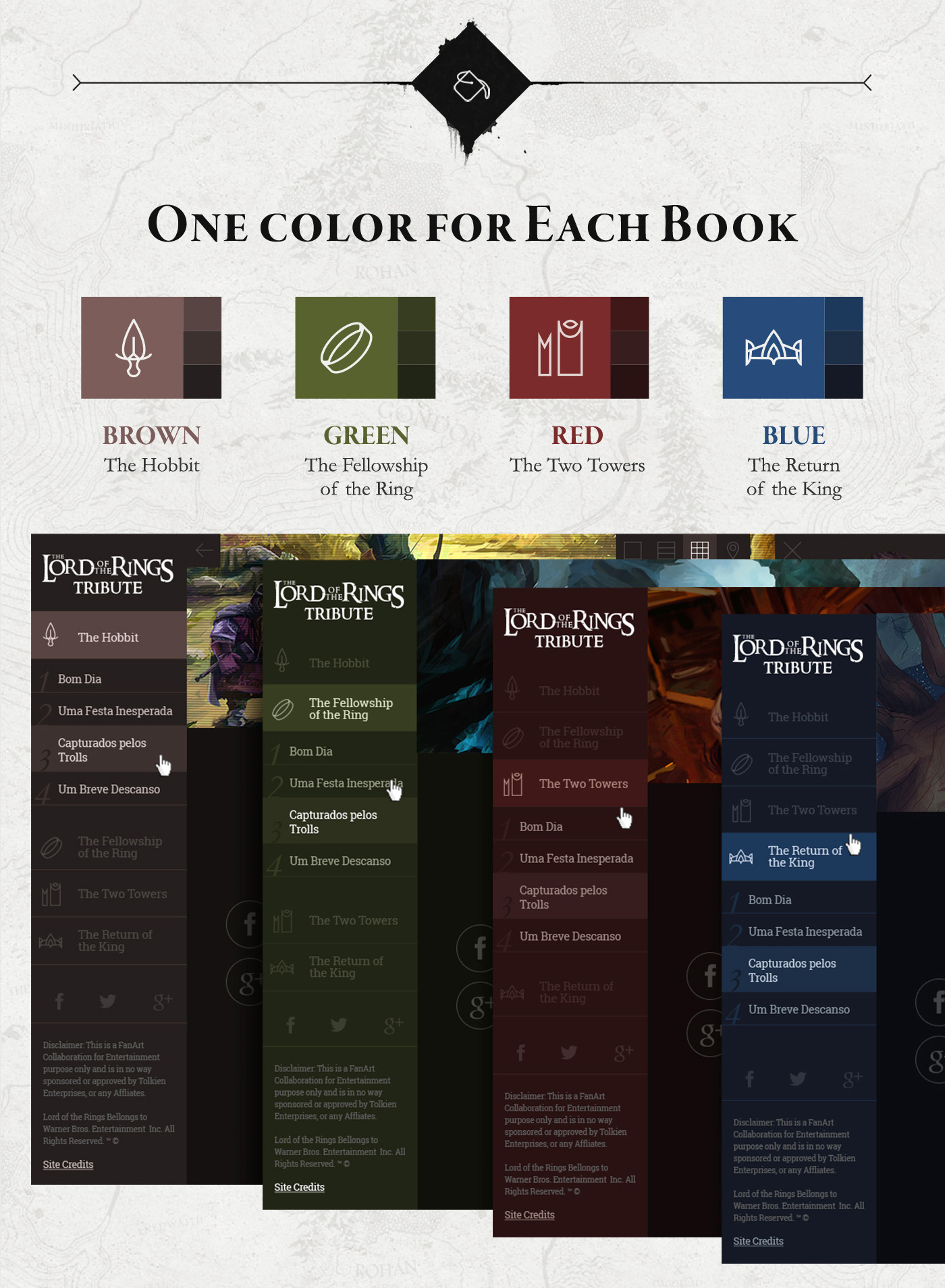 My role: 
UI/UX, Illustration and Webdesign
Front-end:
Thiago Dini (thiagodini.com) 
Leandro Sakami, Mariana Dal Carobo, Fabíola "Cifaela" Monteiro, John Maycon Silva, Thiago Almeida, Augusto L. Passos, Cássio Yoshiyaki Shibukawa, Renan Nascimento, Bruno Rosal, Gomes Brown, Khalil Canabarro, Paulo Márcio Esper, Patrícia Kelen Takahashi, Ava Francine Pepper Pan, Márcio Farias, Cinthia Saty Fujii, Bruno Jacob, Isabela Coelho Dourado, Levi Gomes, Caio Santos, Hugo Richard, Bruno Gondim Luna, Renato Giacomini, Raqsonu Duhu, Rodrigo Idalino, Natália Fcachenco Assis, Douglas Feer, Gislaine Avila, Wesley Luiz Do Nascimento, 
Renan Porto, Jorge Luiz Cerqueira Peixoto, Fellipe Beckman, Rodrigo Ramos, Maicon Mcn, André Castelo, Cindy Aline Nakashima, Nathália Gomes, Tárkio Paulino, Daniel Racca, Luiza Ho, Gabriel Infante, Marcel Amorim, Fabio Alencar, Tarik Ventura, Mark Tamura, Rod Mendez, Guilherme Gusmão de Freitas, Robson Araujo Gonçalves, Hugo Vaz, Everton Lima Zomer, Yuri Nicolaiko, Alessandra Duruy, Sarah Martinelli Benedetti, Everton Caetano, Enderson Santos, Bruno Cesar, Junia Kimura, Thales Aires G. Molina, Natsy Alencar, Paulo Moreira, J Rodrigo Batista, Philippe Costa Alexandrino, Diego D'Andrea, Bráulio Gregorio, Dennis Sabino, Alexandre Leoni, Rafael Faustino, Archiri Usagi, Icaro Yuji, Rodrigo Avila, Erike Miranda, Diego Cunha, Adel Sontav, Lucas Barros, Rodrigo Takahashi, Bruno Barata, Arthur Mask Domingues, Priscilla "Prihx" Silva, Leandro Ricardo, Zecarlos Spjr.